It's that time of year where we gather around for the holidays, eat way too much food, throw elaborate parties and spend time with family and friends. I love the change in whether, the Christmas music and all of the festive decorations in stores. I'm partnering with Target today to tell you about one of my favorite holiday traditions... Friendsgiving. My family has a longstanding tradition of gathering at my Grandparent's house in San Luis Obispo for Thanksgiving. I look forward to that time with my family every year. However, since we are always on vacation for Thanksgiving, I decided to throw a Friendsgiving + Hanukkah dinner party this year. If you weren't aware, Thanksgiving and Hanukkah fall on the same day this year. I'll be posting Thanksgivukkah ideas throughout the week here on my blog.
Here is a sneak peek of the table that I set up for our Thanksgivukkah meal. I tried to incorporate both Thanksgiving and Hanukkah colors while keeping it classy. I'm loving metallics for the holidays right now. Walk into any store and you'll find aisles of gold, silver and white holiday decorations. Swoon.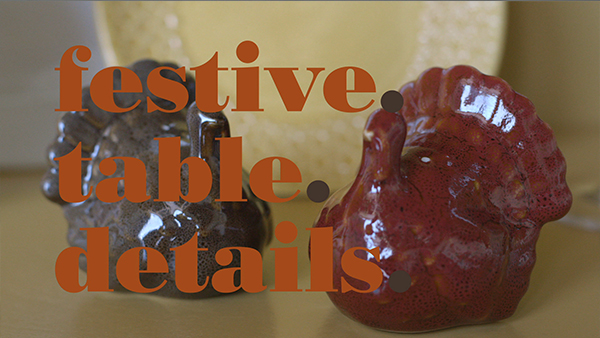 Have you been to Target lately? I die. I was there two nights ago and became completely overstimulated with the beautiful colors, bright lights and incredible decorations. I'm loving this metallic table setting that incorporates all of my favorite holiday hues.
The mercury glass dishes bring added flair to the table as well. Type "mercury glass" into the search bar at
Target.com
to find an array of metallic holiday decorations like vases, lamps and lots more home decor items.
I specifically liked these metallic textile napkins. The top two napkins could be used year-round on a formal dining table, but especially stand out along side other metallics during the holidays.
Do you want to see what Friendsgiving looks like at our house?
My husband & I eating Thanksgivukkah dinner.
After dinner we lit the menorah and listened to our Jewish friends sing songs to us.
(These are my three Jewish friends.)
After dinner, dessert and more dessert, we moved the menorah into our formal living room for some hardcore gaming.
We played fun games like Kosherland (yes, such a thing exists) and Tic Tac Menorah. I learned how to spin dreidels like no other and ate lots of chocolate gelt.
Then we got distracted with the new iPhone 5S slow-motion feature and made videos of dreidels spinning for most of the night. I should post those videos. This picture was taken from one of them as the dreidels dramatically fell from their tower.
At some point the gingers (there are 3 of them) started doing the worm and impressing us all.
All in all, we had a wonderful Friendsgiving and thoroughly enjoyed incorporating Jewish traditions into the Thanksgiving holiday. Stay tuned! Throughout the next week I will be posting Thanksgivukkah recipes and decoration ideas.
Make sure to use #MyKindOfHoliday when posting about any of your traditions or holiday recipes that you'd like to share. We all have our own unique traditions, let's share them!
A special thanks to Target for giving me an opportunity to share a #MyKindOfHoliday story. I was compensated by Target for this post, however, all opinions are my own. Obviously, because who doesn't love Target?